Summer is fun with refreshing fruits like watermelon. But now you can use the freshness of the fruit to create some amazing and refreshing watermelon cocktails which are perfect for a hot summer day.
Here are some watermelon cocktail recipes which you can easily make at home this summer season.
Watermelon Cocktails
Watermelon Cucumber Cooler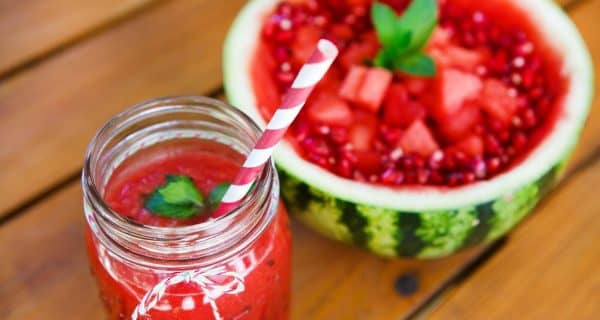 Cucumber and watermelon, both are refreshing and results in one of the cool cocktails.
Watermelon Cucumber Cooler Recipe
Ingredients

• 45ml vodka
• 30ml lime juice
• 2-3 slices of cucumber
• 120 watermelon juice
Method
At the bottom of a cocktail shaker, muddle the slices of cucumber.
Fill it with ice and add vodka, watermelon juice, and lime juice.
Shake and strain into glass.
Garnish
Garnish it with watermelon slices and cucumber. Now, enjoy this delicious watermelon vodka cocktail.
Watermelon Sangria
What can be more perfect than a Watermelon Sangria?
Ingredients
1 cup of seedless watermelon
60ml White wine
15ml white rum
¼ cup of Seltzer
¼ cup lime juice
1 lime, thinly sliced
1 cup frozen fruits
Method
Blend watermelon until smooth and add white wine, rum, seltzer, and lime juice and stir until combined. Then add limes and frozen fruit.
Refrigerate until chilled and serve.
Watermelon Tequila Cocktail
During summers when watermelons are in abundance the great way to use it by making delicious summer cocktails. This summer alcoholic punch is a combination of tequila, watermelon, and berries. Try out this easy recipe of summer alcoholic punch.
Watermelon Tequila Cocktail Recipe
Ingredients
60ml water
35g granulated sugar
1 cup diced watermelon (seedless)

30g blueberries

4-5 fresh mint leaves

80ml tequila
Method
In a pan, pour water and add sugar and bring it to simmer, keep string for about 1 minute until the sugar is dissolved, remove from flame and keep it aside to cool.
In a blender, add watermelon and make a puree until smooth. fine strain through mesh strainer to extract the watermelon juice, discard the pulp.
In a bowl, add sugar syrup, lime juice, blueberries, and mint leaves. Lightly muddle the blueberries and mint using a wooden spoon. Add tequila and watermelon juice and refrigerate for about 2 hours until chilled.
Pour the cocktail into an ice-filled glass and serve.
Boozy Sour Watermelon Slushies
Ingredients
¼ cup sour patch watermelons
60ml Vodka
¼ cup sprite
¼ of lemonade
Ice
Pink food coloring (optional)
Method
Add sour patch watermelon gummies to vodka and soak it overnight.
To a blender, add flavored vodka, sprite, lemonade, pink food coloring, and ice.
Blend to combine.
Garnish
Garnish with sour patch candies and serve.
Gin for the Win
The season for watermelon is short and sweet, so once it's in: capitalize on this hydrating fruit! Meet the gin watermelon cocktail! It's spirit-forward, botanical from the gin and tangy from lemonade, and just sweet enough.
Gin for the Win Recipe
Ingredients
1 Watermelon
1 cup gin
2 cup lemonade
2 Bottles cucumber Tonic
Handful mint

Method
Scoop watermelon balls.
Dunk them in gin and lemonade, refrigerate for two hours.
Place the watermelon balls in a glass, top with half a glass of chilled tonic.
Garnish
Garnish with bunch of mint leaves and serve with Cocktail picks. Now, go on, and enjoy the delicious drinks with your friends or family.
Enjoy your summers with refreshing watermelon cocktail recipes. You can also try alcohol-free summer coolers for more such recipes. Get in touch with us if you wish to know more about watermelon vodka cocktail recipes that can be easily prepared at your home with ease.
Apart from watermelon cocktail, you can also try mangoes to create plenty of amazing mango cocktails.